Launch your virtual lessons with a few clicks
VirtualSIMS is a live lesson teaching and administrative platform that enables flexible teaching and learning beyond boundaries in a convenient  way.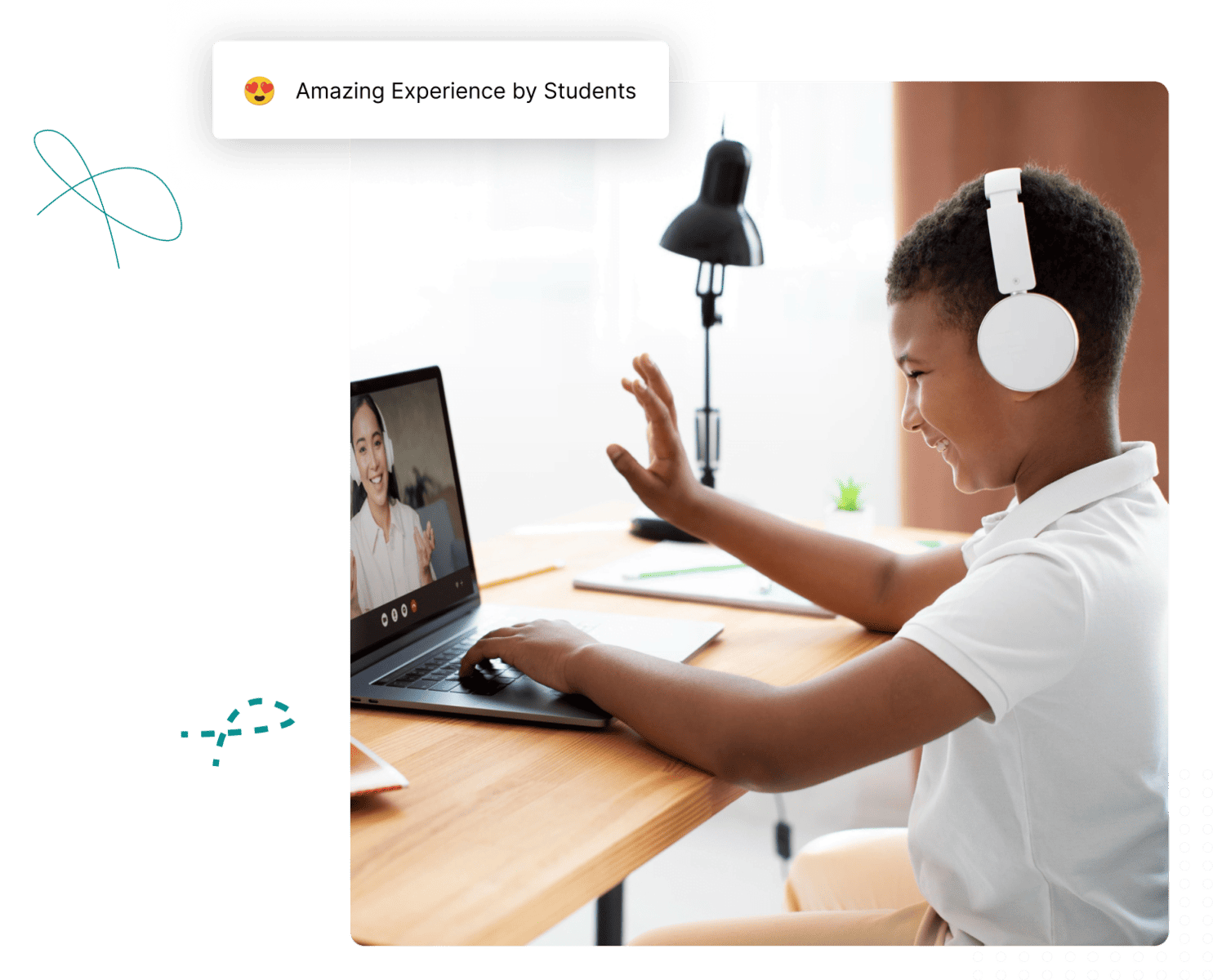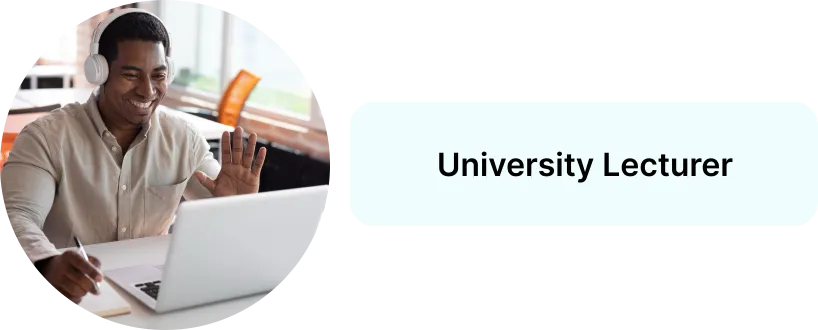 We empower you through expanded reach, flexible scheduling, convenient online access, assessment features, cost-effectiveness, international opportunities, feedback mechanisms, and simplified payments, enhancing your teaching and reaching a global student base while staying competitive in the education landscape.



Host your live classes on the meeting platform of your choice
Create, manage, and share schedules hassle-free. Our intuitive interface lets you arrange classes, events, and activities, ensuring everyone stays connected.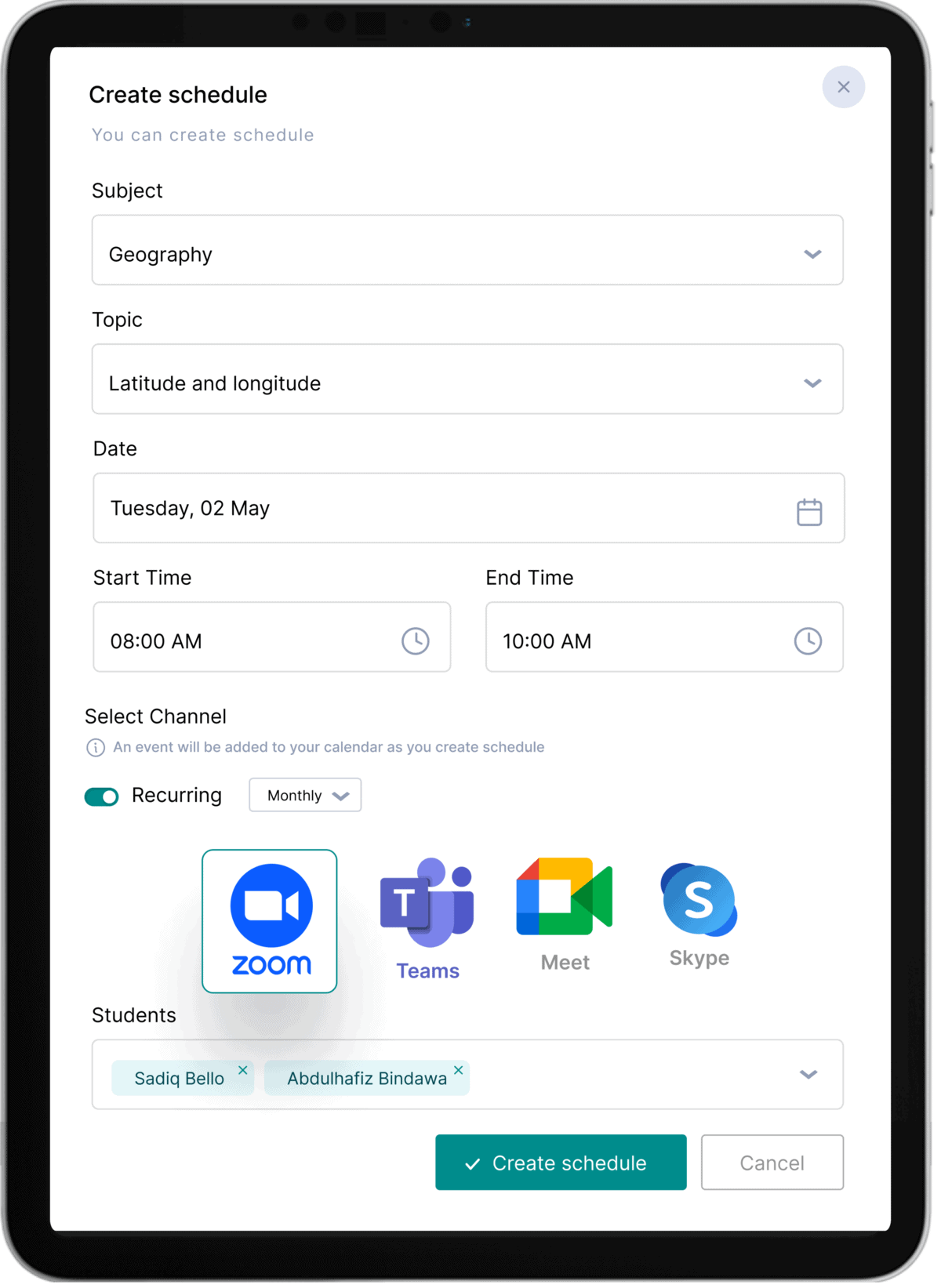 Gain performance insights through attendance and participation tracking
Provide attendance and performance data to the relevant parties for easy monitoring.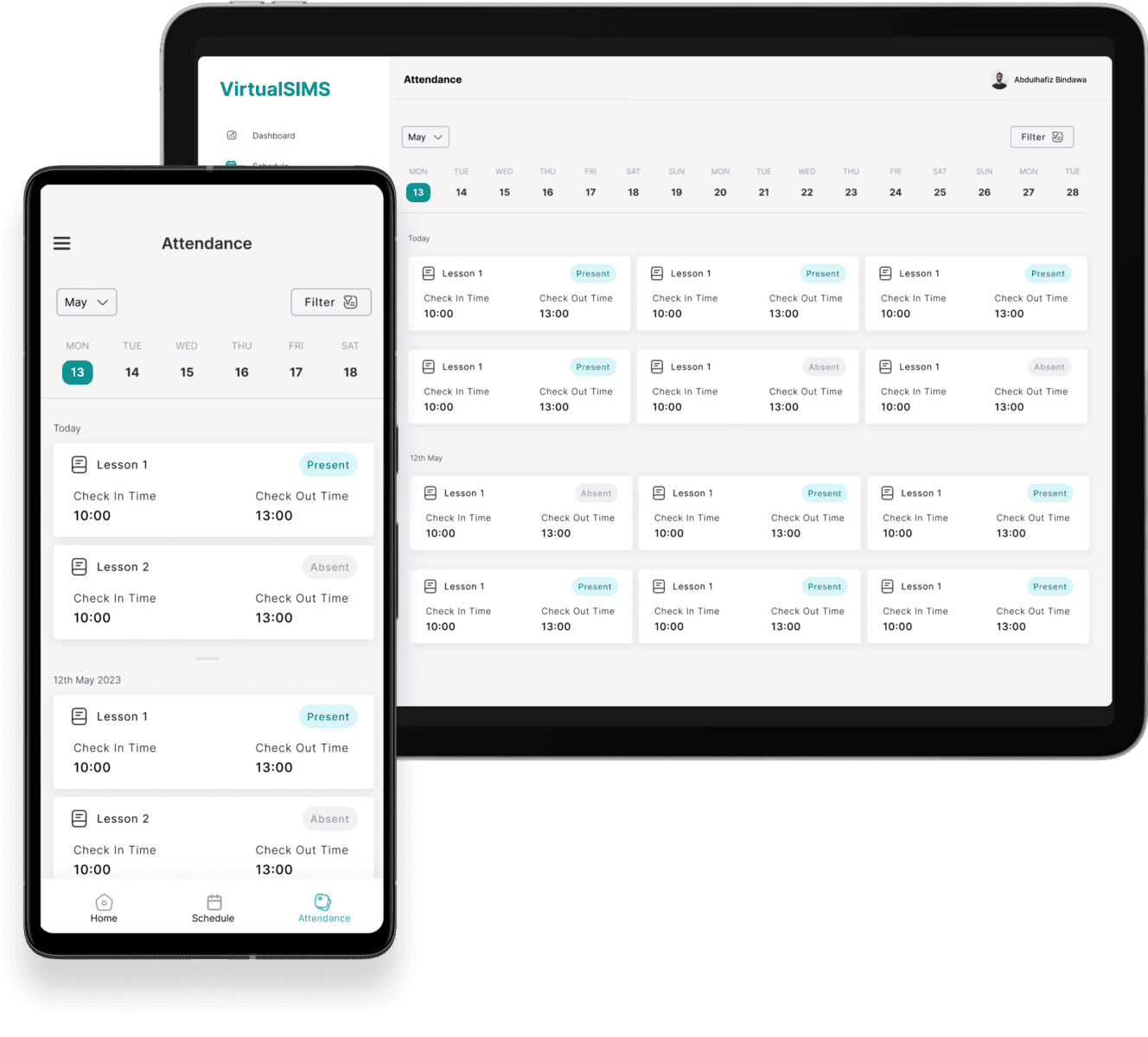 Configure and collect fees from customers with ease.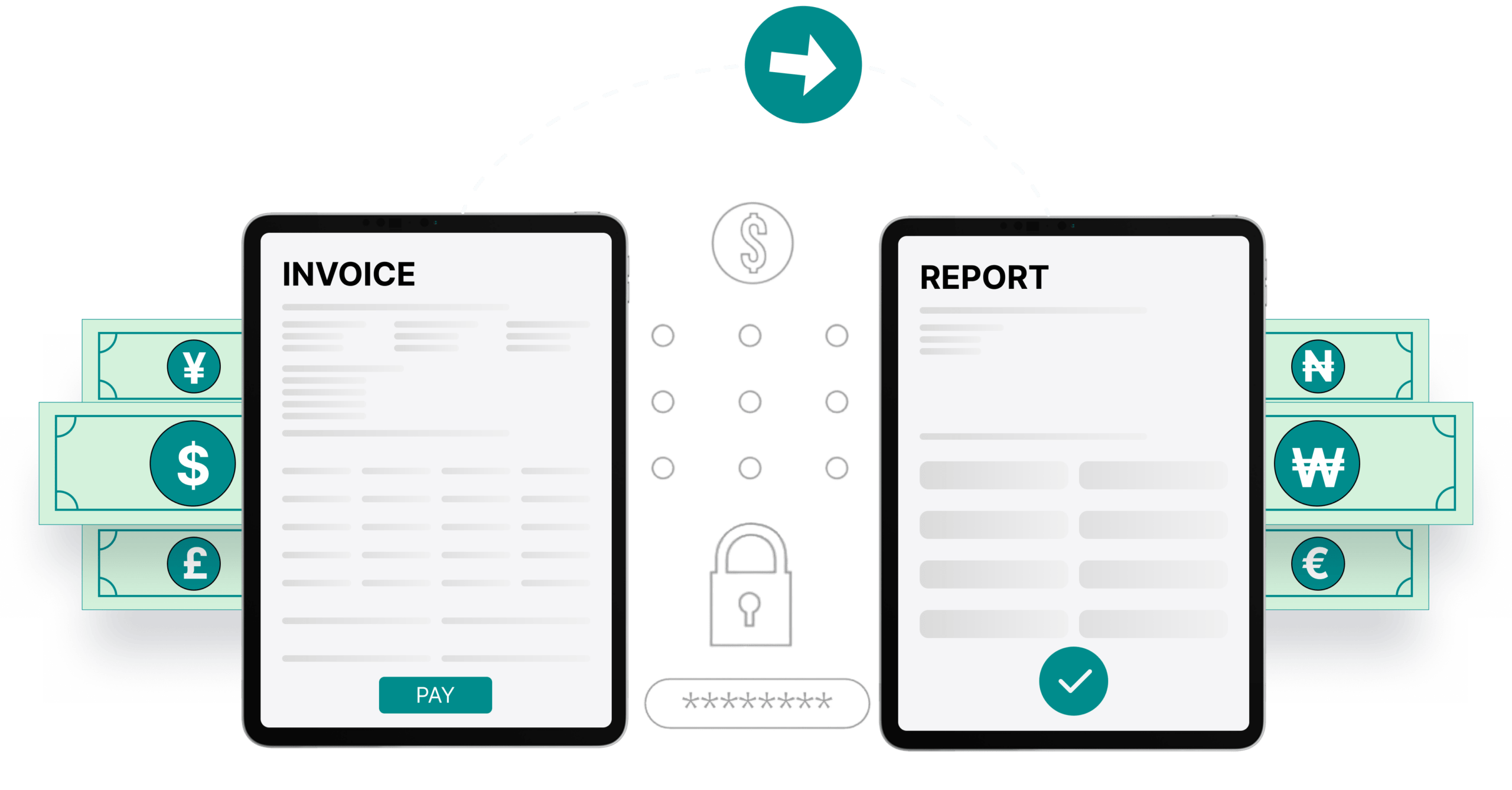 Stay in touch with students and parents with our instant messaging and newsfeed.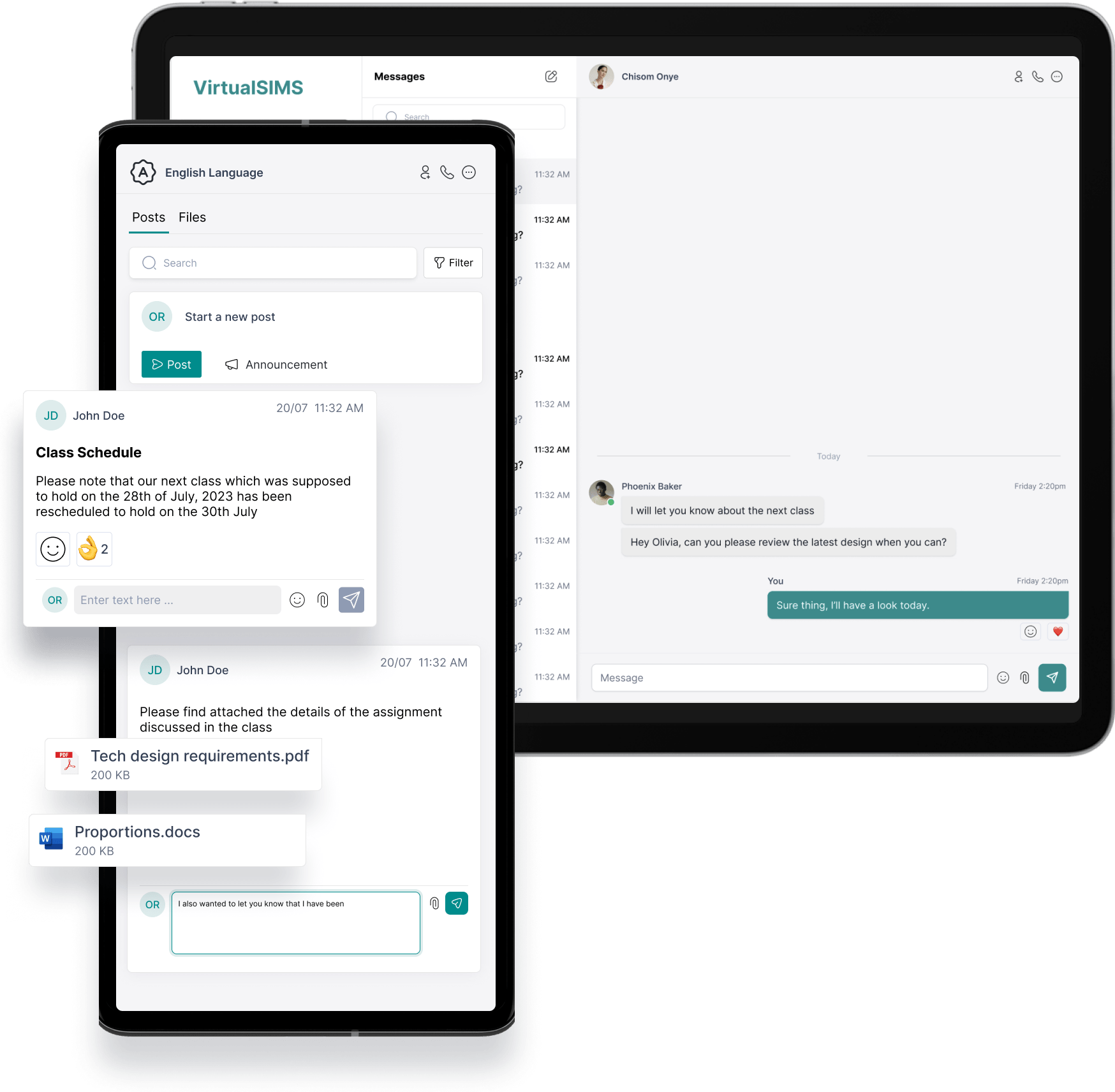 Build your own virtual school easily and engage students like never before with VirtualSIMS.
Frequently asked questions
Everything you need to know about the product and billing.
Who is VirtuaISIMS for?

VirtualSIMS is for anyone who runs online class sessions privately or as an established school. Common users include private tutors, schools who conduct online classes, homeschooling families, online tutoring services etc.
What are the main benefits of VirtualSIMS?

Here are some of the benefits these users can derive from it.

Expanded Reach: Reach students beyond their geographical location, widening their potential client base.
Flexibility: Tutors can offer flexible scheduling, accommodating students' availability for lessons and adjusting to different time zones if necessary.
Convenience: Both tutors and students can enjoy the convenience of learning from the comfort of their homes, reducing commute times and associated expenses.
Interactive Features: Tutors can use various interactive features like video conferencing, chat, and screen sharing to facilitate engaging and effective lessons.
Recording and Playback: Tutors can record sessions for students' future reference, allowing them to review lessons and reinforce their understanding.
Assessment Tools: Simplified assessment and tracking simplified for tutors to monitor students' progress and tailor lessons accordingly.
Safety: In uncertain times or during health crises, VirtualSIMS provide a safe alternative to in-person instruction.
Cost-Effectiveness: Cost-effective for both tutors and students, as it eliminates the need for physical space and materials.
Diverse Subjects: Tutors can offer a wide range of subjects and expertise through VirtualSIMS, catering to a broader audience.
Specialization: Tutors can specialize in niche topics or serve specific demographics, as VirtualSIMS connect them with a global audience.
International Opportunities: Tutors can tap into international markets, offering language lessons or specialized knowledge to students worldwide.
Feedback and Ratings: Easy feedback and rating systems, helping tutors build their reputation and attract more students.
Payment and Billing: Handling payment processing and billing, simplifying financial transactions world wide for both tutors and students.
What is the difference between VirtualSIMS and Zoom, Google Meet, MS teams and other video conferencing tools?

VirtualSIMS uses online meeting and conference tools such as Zoom, Google Meet, MS Teams and others to provide flexibility and variety for the users depending on their preferences. It has other features such as invoicing, attendance, progress monitoring and more while Zoom, Google Meet, MS teams are online meetings and video conference tools.
What VirtualSIMS is NOT?

If you are looking for either of the following, then what you need is SAFSIMS. Another product of FlexiSAF Edusoft Ltd

On-site school management software
Computer Based Testing (CBT) solution for students
Classroom management with class teachers, subject teachers, promotion criteria and other classroom administrative activities.
Academic assessment such as score entry, grading and reporting based on the performance of students in a class or school.

Note: VirtualSIMS can be used in connection with SAFSIMS to cater for online classes and  the above requirements.
Can I collect payments from my customers if they are in different parts of the world?

Yes; VirtualSIMS gives one the ease and flexibility to configure International payment collection via the Stripe platform. Payment plans can be configured with different currencies based on the customer's preference and geo-location. 
Can't find the answer you're looking for? Please chat to our friendly team.